Enjoy the Durability and Versatility of Vinyl Siding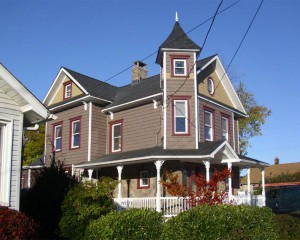 Vinyl siding was first introduced to the exterior cladding market in the early 1960s and steadily grew in popularity over the next four decades because of its look, value, durability, versatility, and ease of maintenance.
The product is manufactured primarily with polyvinyl chloride (PVC), a material that gives it impact resistance, rigidity, and strength. PVC starts with two simple building blocks: chlorine (57 percent) from common salt and ethylene (43 percent) from natural gas. Most of the natural gas utilized to manufacture ethylene is domestically produced, which reduces consumption of imported oil products.
Vinyl siding is available in a broad palette of colors, profiles, and architectural trim to assist architects, builders, and homeowners in customizing their new construction and renovation designs, and it can complement historical restoration projects as well.

Get A Free Full View Storm Door!
For a limited time, get a free Full View Storm Door with a complete siding project - a $500 value! - Act now!
Expires 06/30/2021. Minimum Purchase of $9,999; Offers are for the stated time period only and may not be combined with any other offers, promotions or discounts. Some restrictions apply. Offer not applicable in all counties due to Consumer Affairs Restrictions. Offer not applicable in or to residents of New York City. *Call for details on scheduling the imaging session.