Siding Installation for Homes in Floral Park, Glendale, Cambria Heights, Douglaston & Throughout Queens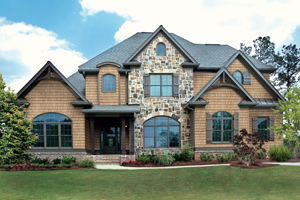 The installation of siding on your Queens home should always be handled by experts. At Alure Home Improvements, our highly experienced and trained professionals know what it takes to ensure that your new siding is installed the right way so that it not only looks its very best but also will adhere to local building codes, meet the terms of manufacturers' warranties, and stand up to weathering. It is our belief that your siding is only as good as the installation method that is used to attach it on your home, and with Alure Home Improvements, you can enjoy the peace of mind that comes from knowing that you have purchased the best possible quality siding that has been installed the right way, the first time.
As our siding installation experts can explain, each type of siding that we offer comes with its own unique considerations when the time comes to add it to the home. For instance, our:
Vinyl siding is extremely durable and low maintenance, but must be installed with great precision. Our team is highly trained in the latest industry-leading installation techniques to ensure that the vinyl siding will fit your home beautifully.
Cultured stone siding is in many ways preferable to natural stone. That's because stone tends to be cumbersome to work with, expensive to install, and not a good option for certain non-load bearing walls. Our stone veneer, on the other hand, is lighter, more affordable, and easier to install, making it a compelling investment into homes of all styles.
Another advantage to having the professionals at Alure Home Improvements handle your siding installation is that we can offer you the ability to see what your chosen siding will look like on your home before it is installed. Using state-of-the-art design imaging software, we can digitally alter a photograph of your home, giving you a clear idea of what the finished product will look like. This removes guesswork from the process and can give you confidence that you've made a great choice.
To learn more about the siding installation service that we offer throughout Floral Park, Cambria Heights, Douglaston, Glendale, and across Queens, contact us today.
$500 OFF*
Complete Siding Package
Expires 1/31/2019. Minimum Purchase of $9,999; Offers are for the stated time period only and may not be combined with any other offers, promotions or discounts. Offer not applicable in all counties due to Consumer Affairs Restrictions. Offer not applicable in or to residents of New York City. Call for details on scheduling FREE* imaging session.