New Siding for Your home in Huntington, New York & the Surrounding Area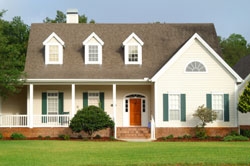 When you choose new siding for your Huntington home from Alure Home Improvements, you can rest assured that you are investing in a high quality product that will not only look great but also meet all of your practical needs. That's because, as an exclusive provider of UltraShield, a state-of-the-art siding and insulation system, the team at Alure can help you immediately upgrade the exterior of your home and even cut down on your monthly heating and cooling costs.
One thing that sets Alure Home Improvements apart from the competition is that we employ full-time siding installers who are singularly dedicated to installing a variety of different types of siding on the home. These professionals work tirelessly to stay up-to-date on the latest siding installation methods and techniques available, because we understand how important it is for the home siding to be installed correctly the first time. In fact, for homeowners who select the UltraShield system, we employ an 11-step siding and insulation system that is designed to:
Withstand harsh weather conditions year round, ranging from the stifling summer heat to the frigid blizzards of winter
Deliver optimal thermal performance, using high density foam backing and tongue and groove edges to help keep heat outdoors in the summer and retain warmth inside during the winter
Discourage mold and mildew growth, thanks to its unique design, which helps prevent moisture absorption and maximizes breathability
Additionally, we offer a tremendous selection of other siding options for you to choose from, including CertainTeed fiber cement, cultured stone, traditional wood, and much more.
For more information about the specific types of siding that we have available to homeowners in the Huntington area, contact us today. You're also welcome to stop by our gorgeous three-story showroom in East Meadow, New York, to further explore your options and work with our talented design team.
$500 OFF *
Complete Siding Package
Free* 15 Minute Design Imaging Session
Not to be combined with any other sales or offers. Minimum purchase $9,999. *Limit 1 per household. Pictures must be submitted before session. Subject to availability & must have session scheduled. Call for details.