The Benefits to Fiber Cement Siding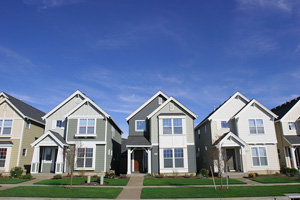 Fiber cement siding is a popular wood alternative that can offer the traditional look of natural wood without many of the performance issues that are commonly associated with this type of siding. One of the problems with wood is that it will require significant maintenance and upkeep. Natural wood is susceptible to rotting, cracking, and other issues, which can be expensive and quite a headache for the homeowner. Fiber cement, on the other hand, is a composite material that is extremely durable and better equipped to handle years of inclement weather. At Alure Home Improvements, our professionals are well-versed on the various advantages of all of the siding we offer, and are standing by to help you choose the siding that will meet your performance needs and complement the exterior of your home.
While wood siding is extremely beautiful and can greatly enhance the aesthetics of a home, wood also has a tendency to absorb water. This absorption causes the wood to swell and can lead to advanced deterioration of the siding, particularly during harsh weather. What's more, you may not notice that there is a problem with the wood siding until it has gotten significant enough to require the total replacement of the product, an unexpected and potentially significant expense. The beauty of fiber cement is that it is available in several wood grain finishes, offering the same attractive finish, but it won't become brittle or split over time. Plus, fiber cement siding is impervious to wood boring insects and other pests that can greatly damage the home's siding.
The CertainTeed fiber cement siding that we offer at Alure Home Improvements is ENERGY STAR-rated and available in several different styles and finishes, offering you the performance and beauty that you require for your home. To learn more about our siding installation service, as well as the other types of high quality siding that we currently offer, including vinyl siding, contact us today. You're also welcome to visit our showroom in East Meadow, New York, for additional information.
$500 OFF *
Complete Siding Package
Free* 15 Minute Design Imaging Session
Not to be combined with any other sales or offers. Minimum purchase $9,999. *Limit 1 per household. Pictures must be submitted before session. Subject to availability & must have session scheduled. Call for details.