CertainTeed Cedar Siding Alternatives From Remodeling Experts on Long Island, NY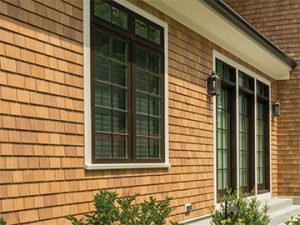 Celebrated for its rustic appeal, cedar siding has long been a popular choice among homeowners. When stained, cedar becomes even more attractive, and some varieties, such as white cedar, grow increasingly beautiful with age. Homes with cedar siding have undeniable character, but all this character and natural beauty come at a cost. For one, cedar requires regular maintenance in the form of repainting or re-staining every three to five years. Also, unless specially treated, cedar is flammable and less resistant to damage from the weather or insects than many other siding options on the market. At Alure Home Improvements, we offer Long Island, New York, homeowners a more durable alternative—siding made by the respected company CertainTeed.
The Advantages of Our Cedar Siding Alternatives
As experienced remodelers dedicated to home improvements of value and long-lasting beauty, Alure installs an extensive selection of CertainTeed siding that replicates natural cedar to astonishing effect. Whether you like the look of rough-split shake, sawmill shingles, clapboard, or Dutchlap, our high-performing options are available in several styles and feature:
CertainTeed's TrueTexture™ finish that's molded from real cedar boards and tested to withstand hurricane-force winds
Easy maintenance, with no painting required
Extra-long and extra-thick panels that reduce seams for a distinctively cohesive look
A designer palette of sold colors, wood-tone blends, and trim colors to complement your home's exterior
For Confidence in Your Home Investment
Contact Alure Home Improvements to learn more about the features and options of our siding and the strong warranty protection offered by CertainTeed. As the premier remodeling company on Long Island for over 70 years, we back all of our siding installations with a minimum three-year warranty on all materials and labor.
Alure Online
Specials
View A Complete List Of Our Specials
Some restrictions apply, click the button below for more details.