Bathroom Remodeling Service Available in Merrick, Syosset, Baldwin, Massapequa & Throughout Nassau County, New York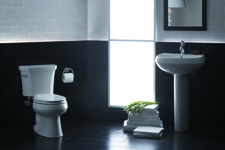 If you're interested in remodeling a bathroom in your Nassau County home, turn to the professionals at Alure Home Improvements who have the experience, expertise, and resources needed to do the job right. Since 1946, we have been proud to serve as one of New York's most trusted home improvement companies and we will go to tremendous lengths to ensure that you are thrilled with your gorgeous new bathroom. Whether you know exactly what you want out of your bathroom remodel or you would like to work with our interior decorators and space planners to create the ideal bathroom for your home, we're here to help.
As a full-service home remodeling contractor, no job is too big or too small for our team. To help ensure that we can accommodate your unique needs and wants, we offer two marquee bathroom remodeling services:
Custom remodeling, This service is perfect if you're ready to make big changes. We can tear down walls, move bathroom fixtures, install skylights, replace windows, upgrade the tub or shower, revamp flooring, upgrade wiring, and do just about anything you want to your bathroom to get it where you want it to be.
5-Day EXTREME bathroom remodeling, This fantastic service is still a full gut and remodel of the bathroom, meaning we can completely rejuvenate and upgrade the room. However, it is intended for homeowners who don't need any walls or fixtures moved, which helps ensure that we can get the entire project done in less than a week.
Remodeling your bathroom is a big decision but with the right team it can also be extremely rewarding and a fantastic investment into your home. To learn more about how the professionals at Alure Home Improvements can help upgrade the bathroom in your home in Nassau County, New York, today, contact us or stop by our gorgeous three-story showroom in East Meadow. We proudly serve homeowners in Syosset, Baldwin, Massapequa, Merrick, and throughout the surrounding area.
$500 OFF*
Complete Bathroom Remodel
Not to be combined with any other sales, discounts or promotions. Minimum purchase $9,999.