Remodel the Bathroom in Your Home in Lindenhurst, East Northport, Smithtown, Ridge or Across Suffolk County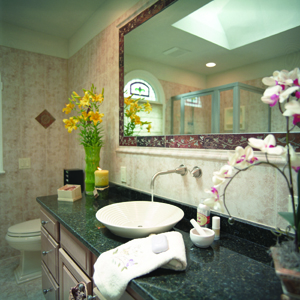 Before you remodel the bathroom of your home in Suffolk County, New York, make sure that you have done your due diligence and found a remodeler who has what it takes to do the job right. At Alure Home Improvements, we have been exceeding the expectations of local area homeowners since 1946, and have extensive firsthand experience designing and remodeling bathrooms of all different sizes and styles. As a full-service home remodeler, we can handle everything from a full gut and remodel to an aesthetic upgrade, so no matter your exact needs and wants, you can rest assured that you're in good hands with our team.
Perhaps the best thing about working with Alure Home Improvements on your bathroom remodel is that we're your one-stop shop. Our dedicated professionals will handle every step, in-house, from the initial design phase through the completion of construction, and you will be kept in the loop every step of the way about the progress of your project. To help ensure that we can accommodate the needs of every homeowner who turns to us, we offer two marquee bathroom remodeling services:
Custom bathroom remodeling, Our experienced team will turn your bathroom design ideas into a reality. We can knock down walls; install a new shower or walk in tub; replace countertops, flooring, and cabinetry; improve the lighting; add windows or a skylight; and improve anything else you can imagine.
5-Day Bathrooms, This service is a great option for homeowners who are looking to get their bathroom remodel done quickly and don't need any walls or fixtures to be moved. Our 5-Day service is also a cost-effective option and a great choice if your home has only one bathroom in it, since it limits interruption into your daily routine.
If you are interested in learning more about how we can help you remodel the bathroom of your home in Suffolk County, New York, contact us today and schedule a consultation with one of our associates. We look forward to walking you through your options and helping you design the ideal bathroom for your home in Lindenhurst, East Northport, Smithtown, Ridge, or another community throughout the area.
$500 OFF*
Complete Bathroom Remodel
Expires 1/31/2019. Minimum purchase of $9,999; Offers are for the stated time period only and may not be combined with any other offers, promotions or discounts. Offer not applicable in all counties due to Consumer Affairs Restrictions. Offer not applicable in or to residents of New York City.