Bath Remodel – Levittown
Master Bath Remodel Service in the Levittown, NY, Community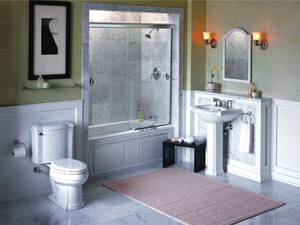 If you're looking to remodel the master bath in your Levittown, New York, home, the team at Alure Home Improvements will gladly assist you. As a full-service home remodeling company with decades of experience in the area, we can handle bathroom remodels of all types, whether that means replacing an old bathtub with a new shower, or completely gutting the bath and starting fresh with a new remodel. No job is too big or too small for our team of professionals to manage.
Above all else, our top priority is to exceed your expectations during the entire bath remodel process. Our design team will work closely with you to help you create the bathroom you've always wanted. Some homeowners have a very clear vision of mind about how their newly remodeled bath will look, while others are interested in exploring all of the options we offer and taking advantage of the interior decorating and design resources at their disposal. Whatever your preference, we are here to assist you.
Generally speaking, we have two distinct bath remodel services for you to choose from:
Custom bathroom remodeling, This service is great if you have big plans for your bathroom. Our team can knock out walls, dramatically alter the layout of the bathroom, install skylights, replace and move bathroom fixtures, anything you want to make the bathroom into a room that you absolutely love.
5-Day Extreme Bath Remodel, This service is still a full gut and remodel of the bathroom, but is intended for homeowners who like the layout of their current bathroom and don't need any walls or fixtures moved. That said, it can still completely transform your old bathroom, but the entire project is completed in just five days.
Of course, the best way to learn all about everything that goes into the bath remodel service that we offer in Levittown, NY, is to speak with one of our knowledgeable associates. We'll gladly walk you through your options, explain our remodeling process, and answer any questions you have. Contact us today to learn more.
Save $500 On Your Bath Remodel!*
For a limited time only, save up to $500 on a complete bathroom remodel - Act now!
Minimum purchase of $9,999; Offers are for the stated time period only and may not be combined with any other offers, promotions or discounts. Some restrictions apply. Offer not applicable in all counties due to Consumer Affairs Restrictions. Offer not applicable in or to residents of New York City.