Bathroom Remodeling Services in Commack, Huntington, Smithtown, Throughout Suffolk County & Across Long Island, New York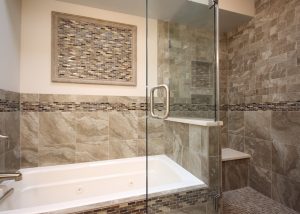 If you're considering remodeling the bathroom of your Suffolk County home, the team at Alure Home Improvements can help. Since 1946, we've helped local area homeowners with all of their home remodeling needs and we take great pride in our ability to handle every aspect of a bathroom remodeling project from start to finish. Our team of in-house designers is also standing by to help homeowners plan their dream bathroom, so whether they have a clear vision of what they want their new bathroom to look like or they're interested in exploring their options, we've got it covered.
The team at Alure is proud to offer two unique types of bathroom remodeling services:
Custom Bathrooms, This service is for homeowners who want to completely gut their existing bathroom and change the physical dimensions of the room or have very specific needs in their bathroom. Our contractors can do everything from tearing down walls to moving fixtures, installing new showers and tubs, changing wiring, and everything in between.
EXTREME 5-Day Remodel, This service is still a complete remodel of the bathroom but is slightly more limited in scope in that it's intended for homeowners who don't need walls moved or fixtures relocated. The benefit of this remodel is that work is usually completed in just five days, limiting interruption in the homeowner's daily life.
One of the most significant benefits of working with Alure is that we're committed to making the entire bathroom remodeling process as easy on the homeowner as possible. Our talented team works with the homeowner every step of the way to select the products and services that will best meet their needs and fit comfortably in their budget. Before work begins, the homeowner receives a detailed contract that outlines every step of the project, and a dedicated production supervisor will be available until the remodel is complete. We are also proud to partner with many of the most trusted names in the business, including Kohler and Moen, so the homeowner knows they're investing in quality products. Additionally, we're proud to offer several other home remodeling products and services including kitchen remodeling, replacement windows, and more.
To learn more about the bathroom remodeling services we offer in Suffolk County, contact us today.
$500 OFF*
Complete Bathroom Remodel
Expires 2/28/2019. Minimum purchase of $9,999; Offers are for the stated time period only and may not be combined with any other offers, promotions or discounts. Offer not applicable in all counties due to Consumer Affairs Restrictions. Offer not applicable in or to residents of New York City.