Owens Corning® Basement Finishing Systems™ Installed for Homes Throughout Long Island, NY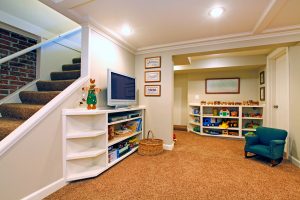 If you've ever been to a home with a finished basement—one with beautiful lighting, comfortable seating, perhaps a pool table, or a media room—you'll understand why your own basement doesn't have to look like the dank residential basements that were so common not too long ago. Even today, basements tend to be the most under-utilized part of homes. But once finished, a basement can transform both your home and your lifestyle. It can serve as a playroom for kids, an apartment for guests, a home office, an entertainment space, and so much more. On Long Island, Alure Home Improvements can help you expand your living space and add real value to your home with the acclaimed Owens Corning® Basement Finishing System™.
Explore the Benefits
As a long-tenured remodeler known for the unsurpassed quality of our products and services, we wholeheartedly recommend the Owens Corning system for homeowners who prioritize energy efficiency. That's because the walls of this finishing system are thermally insulated to reduce heat loss, which could reduce your energy bills. What's more, this Owens Corning system features wall panels that:
Deliver up to 95% sound absorption to prevent basement noise from traveling up into other rooms
Resist mold and mildew growth, making the system perfectly suited to basement environments
Are removable to provide easy access to pipes and electrical boxes
Are durable and dent-resistant for a finished basement that will be easy to maintain
As for the project itself, our experienced technicians can install the Owens Corning Basement Finishing System faster and with less mess than with traditional drywall. If you would like to learn more, contact Alure Home Improvements. Let us turn your damp, dark Long Island basement into a vibrant living space you'll enjoy for years to come.
Alure Online
Specials
View A Complete List Of Our Specials
Some restrictions apply, click the button below for more details.