Walk in Tubs for Homes in Merrick, Syosset, Baldwin & Throughout Nassau County, NY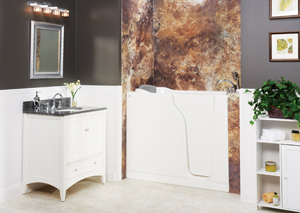 At Alure Home Improvements, we install walk-in tubs in homes throughout Merrick, Syosset, Baldwin, and all across Nassau County, New York, as part of our comprehensive bathroom remodeling services. We are dedicated to helping you improve the overall safety and security of your bathroom and are pleased to offer walk-in tubs that come with a wide range of practical built-in safety.
To help you prevent slips and falls in the bathroom, our walk-in tubs come with:
An easy-to-use, tight-sealing door that conveniently opens to offer access to the bathtub. This removes the big step that is needed to enter and exit traditional tubs.
Slip-resistant flooring and safety grab rails that give you a firm foundation in the bathtub even after you're done bathing.
Chair-height, ergonomic seating that is not only comfortable but also a compelling alternative to lowering yourself onto the floor of a standard bathtub
Walk-in tubs are a great investment because they can be enjoyed by people of all ages and levels of health in your household. While many people associate this style of bathtub with the elderly, the therapeutic jets included in these tubs make for a great bathing experience, even if you're just looking to unwind after a long day in a warm, relaxing tub.
When you turn to Alure Home Improvements, you can rest assured that we have the extensive experience and top quality products you need for your next home remodeling project. We can help whether you're interested in installing a new bathtub in your home to retain your bathing independence, or you're planning for the future and a walk-in tub makes good sense. To learn about the specific advantages of all of our products, contact us today or stop by our showroom in East Meadow, NY. We serve homeowners throughout Nassau County and the rest of Long Island.
Alure Online
Specials
View A Complete List Of Our Specials
Some restrictions apply, click the button below for more details.