Bathroom Ideas for Your Home in Westchester County, NY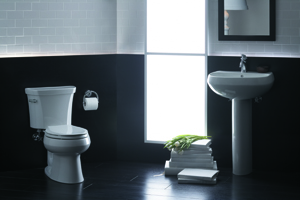 At Alure Home Improvements, we specialize in turning your bathroom ideas into a reality. Westchester County, New York, homeowners have long turned to our bathroom remodeling experts because we have proven time and time again that we can help transform old, tired bathrooms into stunning, practically designed rooms. Whether you have all sorts of bathroom ideas but aren't really sure where to start or you'd like to rely on the expertise of our staff to create the ideal bathroom, we are here to help.
Bathroom remodeling is one of those things that needs to be handled by the professionals if you're concerned with ensuring that the finished product will fully exceed your expectations. At Alure Home Improvements, we proudly serve as a one-stop shop for all of your home improvement needs, and our team of experts has many exciting ideas for upgrading your bathroom.
One notable advantage to working with Alure Home Improvements is that we have highly skilled architects and dedicated bathroom design experts on staff. Rather than outsourcing the design work to a third party, we handle the work in-house, which saves time, money, and allows us to guarantee the quality of the plan. This also allows you easy access to the designer, and helps ensure that the finished design plan incorporates all of your bathroom ideas. For instance, you might consider:
Installing a luxurious new bathtub or shower
Adding a skylight or new windows for natural lighting
Upgrading your countertops, flooring, and/or cabinetry
Moving walls or fixtures to improve the layout of the room
Investing in new, unique storage solutions
Remodeling the bathroom with an exciting, trendy design
Of course, these are just a few examples of ideas for your new bathroom in Westchester County, NY. There's no right or wrong way to go about bathroom remodeling. If you'd like to learn how the professionals at Alure Home Improvements can help you transform the bathroom in your home, contact us today.
FREE 5FT Tub Sliding Door With Your Complete Bathroom Remodel
For a limited time only, get a FREE 5FT Tub Sliding Door with your Complete Bathroom Remodel PLUS NO money down, NO payments, NO interest for 18 Months* - Act now! *SUBJECT TO CREDIT APPROVAL. Offers are for the stated time period only and may not be combined with any other offers, promotions or discounts. Some restrictions apply. Offer not applicable in all counties due to Consumer Affairs Restrictions. Offer not applicable in or to residents of New York City.