The Bathroom Remodel Experts in East Elmhurst, NY
When you walk into your bathroom, can you not help but cringe at the sight in front of you? Is it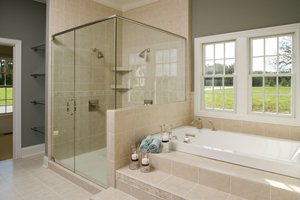 outdated and clearly in need of a refresh? If so, now is the time to turn to Alure Home Improvements. We complete bathroom remodels for homeowners in the East Elmhurst, New York, area. With every project, we offer flawless workmanship, first-rate products, and customer service that is second to none. And with over 75 years of experience under our belt, there is no denying that we have the skills needed to complete your remodel correctly the first time.
Our Bathroom Remodeling Services
With your bathroom remodel, we can update your space from top to bottom. This includes:
Bathtubs and showers
Sinks and faucets
Toilets
Cabinets and countertops
Mirrors
Lighting
Flooring
Backsplashes
We also recognize that your bathroom should perfectly match your functional and aesthetic preferences. Therefore, we will start your project with our design process, where our team will take the time to learn about your wants, needs, and budget.
Our design team is also ADA-certified to help customers with limited mobility, and our bathroom remodelers can complete projects in as little as five days, so you'll be able to enjoy your new space in no time.
Choose Alure Home Improvements Today
At Alure Home Improvements, we have a long list of satisfied customers, and we look forward to showing you why. To learn more about the bathroom remodels we complete for homeowners in East Elmhurst, NY, contact us today.
Extra 5% Savings + 50% off Install!
For a limited time only, save and extra 5% on your project PLUS 50% off Install AND NO money down, NO payments, NO interest for 18 Months* - Act now! *SUBJECT TO CREDIT APPROVAL. Offers are for the stated time period only and may not be combined with any other offers, promotions or discounts. Some restrictions apply. Offer not applicable in all counties due to Consumer Affairs Restrictions. Offer not applicable in or to residents of New York City.