Professional Bathroom Remodeling in Plainview, NY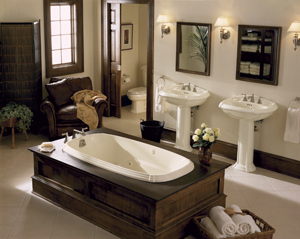 If you are in need of bathroom remodeling service in the Plainview, New York area, look no further than the home improvement company that area residents have trusted since 1946: Alure Home Improvements. As a full-service home remodeling company with decades of firsthand experience, we have what it takes to rejuvenate any bathroom in your home. Our team of highly trained design experts is at your disposal to help you design a bathroom that will look great and have all of the features you've always wanted.
Our 5-Day Bathroom Remodel
One of the most popular services that we offer at Alure Home Improvements is our 5-Day EXTREME Bathroom Remodeling service. As the name indicates, our team of dedicated installers can completely renovate your bathroom in just five days, allowing you to begin to enjoy your remodeled room in less time than you might have thought possible. As long as you don't need to expand the footprint of the space or have any fixtures moved, this is undoubtedly a great option for you – especially if your home only has one primary bathroom.
Reimagine Your Bathroom Design
At Alure Home Improvements, no job is too big or small for our team. If your floor plan will allow it, we can happily knock down walls, expand living space, and make wholesale changes to the bathroom. The choice is entirely yours. And speaking of choices, we have no shortage of design options to consider, including numerous types of:
Cabinets
Countertops
Flooring
Mirrors
Bathtubs and showers
Sinks
Tiles
And more
Bathroom Remodels That Combine Form & Function
Sure, you want your new bathroom to look great, but there are several factors that can affect your initial design plan. For example, are you satisfied with your bathroom's current storage space? If not, we can work with you to determine ways to provide additional storage. Our design team can also:
Ensure that you have proper ventilation in your bathroom
Design a bathroom floor plan that better complements your home's layout, taking traffic flow into consideration
Create a green bathroom that uses less electricity and water and takes better advantage of natural lighting
Help you improve bathroom safety by replacing your high-walled tub with a low-threshold shower
Offer professional recommendations on fixtures, countertops, flooring, and finishing touches for a redesigned bathroom you'll be proud to show off to your guests
Work with you to design a bathroom that best exudes your personal style
We Bring Our Showroom to You
To learn more about the compelling bathroom remodeling service that we offer in Plainview, NY, contact us today. We can schedule a complimentary virtual consultation that allows you to share your vision with our bathroom design team from the comfort of your home. We will ask you to provide photos and measurements of your home in order to better help you. We'll then happily walk you through your options, answer any questions you might have, and show you how we can bring your project to life. Once we have finished evaluating your space and reviewing your needs, we'll provide you with a free estimate. Contact Alure Home Improvements today to start the process.
Alure Online
Specials
View A Complete List Of Our Specials
Some restrictions apply, click the button below for more details.