Remodel the Bathroom of Your Hicksville, NY, Home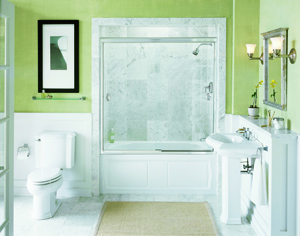 Would you like to remodel the bathroom of your Hicksville, New York, home, but aren't quite sure how to get started? If so, the dedicated team of bathroom remodelers at Alure Home Improvements would love to talk to you. We are a full-service home improvement company with decades of experience meeting the remodeling needs of homeowners throughout the area, ensuring we can help you transform your bathroom into the room of your dreams. Whether you know exactly what you want from your bathroom remodel, or you prefer to talk to our professional designers to learn more about your many options, we are eager to help.
To help ensure we can accommodate your specific bathroom renovation needs, we offer two primary remodeling services:
EXTREME 5-Day Bathroom Remodeling: This entire gut and remodel is completed from start to finish by our highly trained team in only a week. This helps limit interruption in your daily routine and lets you start to enjoy your bathroom remodel in less time than you might have thought possible. Our 5-Day service is perfect for homeowners who don't need any walls or fixtures moved, but are ready to make a change.
Custom bathroom remodeling: Our highly trained bathroom remodelers will work closely with you to design and install the bathroom of your dreams. We can tear down walls, move your shower or tub, install skylights, upgrade cabinetry and countertops, and bolster ventilation – basically anything you can think of, we can handle in the bathroom. No job is too big or complex for our team.
To learn more about how we can help you remodel your bathroom in Hicksville, NY, contact us today. You're also welcome to visit our gorgeous three-story showroom in East Meadow, New York, open seven days a week and explore your various options in person. At Alure Home Improvements, we go to extremes to build your dreams.
Get a Free Towel Warmer!
A $500 value!
Expires 12/31/2018. Chrome or brushed nickel only. Minimum purchase of $9,999; Offers are for the stated time period only and may not be combined with any other offers, promotions or discounts. Offer not applicable in all counties due to Consumer Affairs Restrictions. Offer not applicable in or to residents of New York City.