Bathroom Remodeling – Avoiding Mold
Tips for Preventing Mold and Mildew in the Bathroom with a Remodel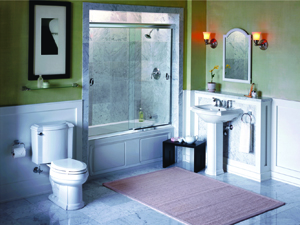 An advantage to remodeling your bathroom is that with a handful of design choices you can reduce the likelihood for mold and mildew problems. As any homeowner knows, a damp bathroom is fertile breeding ground for bacteria and even the cleanest bathroom can be susceptible to pesky, and potentially dangerous, mold growth. However, the bathroom remodeling team at Alure Home Improvements is well-versed on several techniques to help address this problem as part of our bathroom remodeling service.
The beauty of bathroom remodeling is that you can completely rejuvenate the décor of your bathroom, while making design choices that can also limit your risk for future mold growth. Here are some popular methods for addressing mold and mildew growth and reproduction:
Invest in an acrylic tub or shower that is nonporous and inhospitable to mold spores
Add countertops that are nonporous, such as stainless steel, marble, or granite
Improve the ventilation of the bathroom during the redesign
Maximize natural lighting with a skylight or new replacement windows with maximum glass surface
Add an exhaust fan to circulate moisture and stagnant air
Use proper caulking and sealants
The team at Alure Home Improvements has been pleased to work with local homeowners since 1946 to meet all of their bathroom remodeling needs. We have extremely knowledgeable and experienced bathroom designers on staff who take pride in working closely with homeowners who turn to us to design the bathroom of their dreams that is not only gorgeous but also extremely practical.
To learn more about the bathroom remodeling process and the products we currently have available, stop by our showroom in East Meadow, New York, or contact us to schedule an at-home consultation with one of our bathroom remodelers today. We'll be more than happy to explain your options and provide you with a complimentary quote for your next bathroom remodeling project.
Alure Online
Specials
View A Complete List Of Our Specials
Some restrictions apply, click the button below for more details.