Gina Bonura
Director of Sales & Designs – Showroom Manager
Custom Kitchen & Bathroom Department
About:
Gina Bonura, Director of Sales & Designs – Showroom Manager, Custom Kitchen and Bathroom Department for Alure Home Improvements, began her career at Alure in 2002.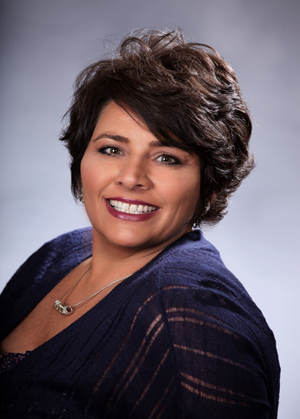 Gina Bonura came to us with a diverse background. Prior to starting a family, Gina was an executive legal secretary and paralegal for 11 years. She also worked as a motivational speaker for an international company. Once the family came along, Gina enjoyed her time as a stay at home mom for several years. She began to take an interest in decorating and interior design and was often asked for design assistance from family members and friends. Gina recognized that she had a great passion for space planning and the skill of combining light and color, so she decided to go back to school to pursue this dream.
Gina Bonura began her career at Alure in 2002 as a greeter while working on her degree in interior design. Initially, seeking only to "follow around the designers for an internship," Gina quickly realized she had found a company that would nurture and refine her talents and become her 2nd family. Gina swiftly transitioned from greeter/ intern to successful Custom Kitchen and Bath Designer. Over the next fourteen years Gina established a solid repeat and referral customer base, comprised of many "Raving Fans."
In 2012 Gina was promoted to the Director of Sales and Design for the Custom Kitchen and Bath department as well as showroom manager. Many of the beautiful and multifaceted displays in our 8,000 Sq ft. showroom in East Meadow are shining examples of her extraordinary talent.
Today, Gina is dedicated to training and mentoring new designers. She takes great pride in her team's success and hard work ethic. Gina continues to inspire every designer on her team by providing them with on going training and support. Gina fosters a positive work environment where all the designers under her management can thrive and shine.
When Gina is not working she loves cooking, walking the boardwalk at Jones Beach, spending time with her family and their most recent addition, her adorable grandson Christopher, who is undoubtedly her true pride and joy!!
Awards & Achievements:
• American Society of Interior Design (ASID)
• National Kitchen and Bath Association (NKBA) Training Course
• Motivational Speaker International Company – Neuro-Linquistic Programming
• Tony Robbins Unleash the Power Within
• Phil Rea
• Rodney Web
Favorite Quote:
"There are no victims, only volunteers." – Robert Anthony
What I Love About Alure:
Alure is my second family. I like the diversity of everything – designing, teaching and training. I love everything about Alure.
Alure Online
Specials
View A Complete List Of Our Specials
Some restrictions apply, click the button below for more details.