Designer Bio: Rocco Montemarano
About: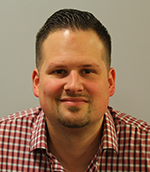 Rocco is a passionate and creative individual. While completing his Bachelor's Degree in Criminal Justice, he started working for Alure in the marketing department. As he learned more about Alure and the different services that they offer, he quickly grew more interested and excited about pursuing a career in the remodeling industry, a path that was far different from what he had previously imagined for himself. He learned about the business from the ground up, eventually finding his niche in designing and helping customers realize their dream projects.
Rocco is now an accomplished designer, having taken on projects both big and small, and giving every client the same level of care and attention. He prides himself on his ability to connect with people and understand their needs, and to help them transform their existing kitchens and bathrooms into spaces that are both useful and beautiful. He understands the need for functionality in the rooms, and he uses his personal and professional experiences as inspiration to help guide customers through the often stressful and confusing process of planning their dream space and making important decisions.
3 favorite things:
1. Movies — Rocco is an avid movie buff and can discuss films for hours.
2. Food — He is a food connoisseur loves cooking just as much as eating at restaurants.
3. Music — He likes all types of music and enjoys seeing it live.
Favorite Project:
Rocco's favorite project was a kitchen remodel in Westchester County. The clients had a very large kitchen with a lot of space, and they needed help coming up with a functional layout. They had also recently lived through a very long remodel of another part of the house, and they didn't want to deal with the pain and stress of a disruptive process like that again.
Rocco made suggestions and collaborated with the customer to help them come up with a unique kitchen design that was ideal for prepping and cooking food as well as entertaining guests; he also helped them maximize the storage space that made sense for their needs. He showed them how Alure's innovative 10-Day Kitchen program would systemize the process and get the project completed in record time and with minimal headaches. He emphasized how important the planning phase of the remodel was in ensuring a smooth construction phase. In the end, the client was thrilled and realized how much less stressful a remodel can be when done the right way.
Featured Project:
5 Day Bathroom in Huntington Station, NY
Click Here To View More Of Rocco's Work
Alure Online
Specials
View A Complete List Of Our Specials
Some restrictions apply, click the button below for more details.