Designer: Jonathan Gilbert
Designer Bio: Jonathan Gilbert
About: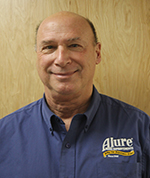 Jonathan has always been a people person and began his career as an independent sales representative over 45 years ago. After graduating with a Bachelor of Science from Bradley University, he started off his career in the wholesale shoe industry before moving into the window business. Wanting to expand his horizons, Jonathan joined the Alure team where he now does all exterior home designs. He likes to educate his clients so that they understand what they need and what they are getting.
3 favorite things:
1. His Sons – He is a proud dad to his three sons, a nurse practitioner, an electrician in the union and a financier.
2. Dogs – Jon absolutely adores his twin boy standard poodles.
3. Family – He loves spending time with his family, especially his 96 year old mother who he likes to make surprise visits to down in Florida.
Favorite Project:
Jonathan's favorite project was for clients in Garden City. They originally used Alure 15 years ago for the roof and siding. They loved the fact that we stand behind our work and are so accommodating that they came back to us for their next project. This time they were looking to complete their exterior renovations with a big walk in bow window, front entry door, gutters and leaders. The walk in bay window consisted of two working casement windows on the sides and four fixed picture windows in the middle. They changed their gutters from 5″ to 6″ with stainless steel mesh screening on top to help with water that was rushing down the valley with the smaller gutters. The biggest change was their entry door. Jon helped them pick out a beautiful fiberglass door with a 3/4″ glass oval in a wine color to give them a pop of color with their white siding to complete their curb appeal.
Alure Online
Specials
View A Complete List Of Our Specials
Some restrictions apply, click the button below for more details.