Designer Bio: Daniel Gomez
About: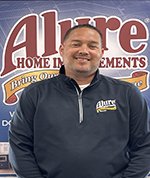 Daniel Gomez was born and raised on Long Island. He has been involved in the construction industry since he was a young child working with his dad on various construction jobs. Whether he was sweeping floors in his younger years or helping with the projects as he got older, Danny was always all hands on deck and loved learning the ins and outs of the projects. Daniel has over 25 years of experience in sales and customer service. Danny was part of the local 7 tile union for two years. During his time in the union, his biggest project with the tiling of the Smithaven Mall. After leaving the union, Danny went into the automotive industry where he was for at BMW and Nissan for about 11 years each. Danny brings his construction and management experience to Alure in the Lifestyle 1 Day Bathroom Department, specializing in walk in showers, walk in tubs, tub to shower conversions and shower to tub conversions.
3 favorite things:
1. Coaching – A Division 1 Football player at UConn, he now helps coach his 5 year old son's football and baseball teams.
2. Exercise – An avid gym enthusiast Danny can be found most mornings at the local gym.
3. Family – Danny enjoys spending quality time with his family whether they are on vacation, at the beach or the park.
Favorite Project:
Danny's favorite job was for an older couple in Northport where the husband used to be in the construction industry. He loved that Danny could talk shop and was knowledgeable about not just the products but the installation end of the project as well. Danny designed this wet area with duel pulse rain shower heads, a luxury transition and a zero threshold base. The end result was to die for!
Featured Project:
Lifestyle 1 Day Bathroom – Northport, NY
Alure Online
Specials
View A Complete List Of Our Specials
Some restrictions apply, click the button below for more details.