Designer Bio: Chris Ann O'Neill
About: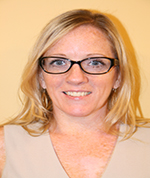 Chris Ann O'Neill has been extremely lucky in the sense that she has been able to turn all of her passions into careers. She's always loved Math and so she got her Bachelor's Degree in Finance from St. John's University in 1989. She then became a Stockbroker. This taught her to look at everything in numbers. So when she is talking about renovating your home, she understands the importance of crunching the numbers and will work with you to get you the best possible product for the best possible price.
Her second career was a Business Owner (starting 2000) and Manager in the Fitness Industry (starting 2007). The dotcoms blew up the Stock Market, so why not start a business in an area she loved, fitness? This taught her to look at things from an owner's point of view, and from a healthy lifestyle point of view. So when she is discussing your renovation, she will put herself in your shoes as homeowner and ask the important questions. Why are you renovating? – to make a more enjoyable living space for you and your family?…to make your kitchen more fit for a chef?…to fit your bathroom with your current lifestyle needs? …perhaps it's to sell? She will work diligently with you to transform and perfect your space to suit your needs.
Since 1996 aside from her careers in the Stock Market and Franchise Ownership, she was invested in Real Estate in New York City. It started when she purchased a Loft in the Flat Iron area and was coming home with a sledge hammer in her hand and knocking down walls to open up and beautify the space. This went on to 5 more apartments and 2 businesses. She was acting as the General Contractor, gutting, renovating, enjoying and then selling.
Present day she works for Alure, the #1 company in kitchen and bathroom renovations. Her expertise is in the 5 day bathroom and 10 day kitchen designing department. Now she gets to bring all of her passion to helping your dream space come to fruition.
3 favorite things:
1. Family & Friends – She loves to spend time with her family and friends, always having fun with lots of laughing.
2. Reading – Chris Ann loves to read her husband's stories and novels. She is a very proud and supportive wife.
3. Traveling – She loves to travel and experience new cultures and good food.
Favorite Project:
One of Chris Ann's favorite projects was a 10 day kitchen and 5 day bathroom in East Meadow. The homeowner was just such a pleasure to work with and made the entire process a fun experience. She knew what she liked, she was easy going and the project turned out absolutely beautiful.
Featured Project:
10 Day Kitchen in East Meadow, NY
Alure Online
Specials
View A Complete List Of Our Specials
Some restrictions apply, click the button below for more details.