The Owens Corning Basement Cost and Other Benefits Over Above-Ground Additions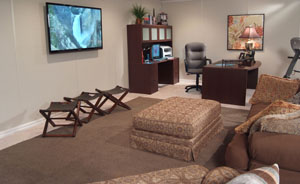 If your family is experiencing growing pains, consider installing an Owens Corning Basement. Cost comparisons have shown that families who choose the Owens Corning Basement Finishing System enjoy significant savings per square foot over those who build above-ground additions. What's more, the Basement Finishing System can be installed in only about two weeks and creates less mess and disruption during installation than a typical addition project.
While you may currently think of your basement as a dark, dingy space that hardly serves any function, the Owens Corning Basement Finishing System can change that perspective. Your finished basement will feature removable walls that not only provide easy access to your home's foundation and plumbing, but that also create a beautiful, durable backdrop for your new home office, playroom, or family room. The dent-resistant walls that are the cornerstone of the Owens Corning Basement Finishing System are also:
Stain-resistant and easy to clean
Class-A fire rated
Mold and mildew resistant*
Insulated to absorb sound and reduce heat loss
And more
Furthermore, your new basement will be backed by a Lifetime Limited Transferable Warranty** for as long as you own your home.
If you'd like to learn more about having the Owens Corning Basement Finishing System installed, contact Alure today.
---
*While the materials and design of the Owens Corning Basement Finishing System resist mold and mildew, the system cannot prevent or mitigate mold if the conditions necessary for mold growth otherwise exist in your basement.
**See actual warranty for details, limitations, and requirements.