Home
› Home Improvements Blog
Search Our Blog
It was a bittersweet night at the sold out, 10th annual Long Island Fight For Charity held at  the Huntington Hilton in Melville, Long Island. Sal "The Hammer" Ferro of Alure Home Improvements, took on Kevin "Spider" Kelly of BigBuzz Marketing in the night's main event. Ferro, a first time participant, and Kelly, a return boxer, committed to this event and effort to raise money for several great charity organizations which the Long Island Fight For Charity supports.
For those not familiar with the event, this is no joke. Participants must train for months with a professional boxer, meet weight requirements, pass sparring tests, get a fight card signed off by a doctor, and pass a physical to compete in an officially sanctioned boxing match. The only difference from an actual prize fight is this is not for a belt, but for charity.
Both Ferro and Kelly are no strangers to supporting their local community, as each are involved with numerous other charitable endeavors. Kelly is very involved with Michael J Fox Parkinson's Foundation, Sanyuka Hole in the Wall Camp in Kampala Africa, Moms Who Kick and Rock Can Roll among many others. Ferro, is on the board and a supporter of The Interfaith Nutrition Network, Find A Cure Today, Farmingdale College Foundation, The Clark Gillies Foundation, Joining Everyone to Share, as well as many others.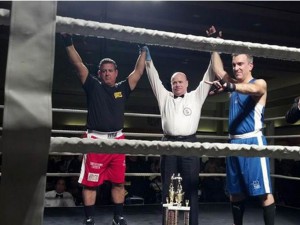 The sweet part, was that after months of training in the gym, and working with professional boxer, Robert Vanacore of East Northport's Fitness Through Boxing, Ferro won his fight by TKO. Rumor has it The Hammer has had some "non-sanctioned" fights back in his day, regardless he took this commitment seriously.  In preparation for this event Sal spent 3 days a week in the gym for the past 3 months, altered his diet, andadded other cardio work on his off gym days.
However, the result of the fight itself was more bitter than sweet. If you know Sal Ferro, then you know he has a heart of gold and would never, especially in a charity event, want to see anyone hurt, let alone a class act like Kevin Kelly.
Unfortunately, Kevin, after an exciting 30 second flurry of exchanges with Ferro, got caught bobbing when he should have weaved, and Sal landed a hammer of a right (yes,  Sal not only swings a hammer, he hits like one too) early in the first round of the final bout of this great evening. These two amazing Long Island Business Men put on a great display of boxing and philanthropy, as they exchanged a flurry of rights and lefts for charity in one of the most exciting fights of the evening.
In the end, it was clear who the winner was….it was the Long Island Fight For Charity organization, and the thousands of Long Islanders helped by the many great charities this event supports.
The Genesis School which works with children with autism
Long Island Community Chest which helps local families that are struck by hardships such as illness or accidents
National Foundation for Human Potential which helps people with disabilities find housing.
The sweetest part of the evening, were the records set for fundraising to help these great charities. This was the 10 year anniversary of the Long Island Fight For Charity and we are proud to announce TWO records. The previous record for funds raised by any one boxer participating, was $45,000. The Hammer crushed that record, raising close to $80,000 with a combination of sponsorships, donations, ticket sales and a few guest bartending fundraisers along with the way with good friend, Hall of Famer Clark Gillies.
And the event raised over $290,000, also a Fight For Charity record. The event was a sellout, that required a last minute addition of several hundred seats, and to accommodate the demand, the event was also available on live streaming for a $20 donation. Over 250 of the 1,400 attendees were there to support the Hammer!!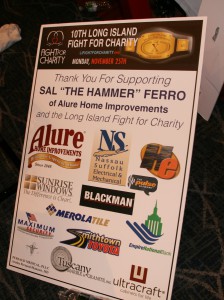 On behalf of Alure, we'd like to thank our trunks and shirts sponsors:
Nassau Suffolk Plumbing & Electrical
Empire National Bank
Blackman Plumbing
Smithtown Toyota
Merola Tile
Sunrise Windows
Hunter Electric
Ultracraft Cabinets
Tuscany Marble & Granite
The Pulse Network
Maximum Security
Persaud Medical LLC
To see a full list of all sponsors and supporters for the Long Island Fight For Charity, click here
See Alure's FFC photo gallery.

To relive "The Hammer's" journey through video, click here.  Coming soon: a final recap of The Hammer's entire journey.
The fight morning started with a visit by the Hammer to Fox 5's Good Day New York, for an interview with hosts Rosanna Scotto and Greg Kelly, leading up the big event. At one point, the Hammer had to hold back Greg Kelly as he sparred with sports anchor Duke Castiglione. That interview can be seen on the Alure fan page.
Stay tuned for an exciting video recap coming in the next week, highlighting the Hammer's entire journey, to be posted on our Facebook Fan Page.
Alure Home Improvements wants to know, "who has inspired you?"  Who has stepped up and fought for a cause, a person, or a movement greater than themselves and helped build awareness and support for those in need?   If you know someone or were inspired by an amazing person who has been committed to supporting the community, and teaming up with many charities over the years – we want to hear from you.
We'd like to recognize and support however we can.  One of the ways, is to invite them to become our special guest during the Long Island Fight for Charity on Monday, November 25, 2013, being held at the Hilton Long Island.
This year, the CEO of Alure Home Improvements, Sal Ferro, has teamed up with the Long Island Fight for Charity to battle it out in the ring.  This great event will raise money for The Genesis School, Long Island Community Chest, and the National Foundation for Human Potential.
As Sal "The Hammer" Ferro has decided to step up for this charity and into the ring, we want to recognize others who have stood up for their community, or fought for someone else in a time of need.  We have two pairs of VIP tickets to the Long Island Fight for Charity event donated by our good friends at The Pulse Network valued at $195 each, and want YOU to nominate someone who would be deserving of them.  Let us know why your nominee should be our special Long Island Fight for Charity guest, and how they have stood up and "fought for their community." 
Whether it's to take a bubble bath or hot shower, your bathroom should be a place to relax and help release daily stress. However, when your bathroom starts to lose its luster, it no longer offers you the stress-relieving, therapeutic atmosphere you once experienced. Because our bathrooms are so vital in preparing us for the day or helping us unwind, we should keep them looking fresh and updated as our tastes change. How many times have you remodeled your living and family rooms since you last updated your bathroom?
Luckily, we can take back the bathroom and create our own oasis without spending thousands on a complete remodel. You may not believe it, but a fresh coat of paint can breathe life into your bathroom. Painting a bathroom to make it look new – while keeping it elegant – can be a challenge depending on the options available to you. So, let's discuss how to use different types of paint to bring tranquility to your bathroom.
Read more ›
When considering installing vinyl siding on your own, there are many factors one needs to consider according to Chris LoCascio of Alure Home Improvements.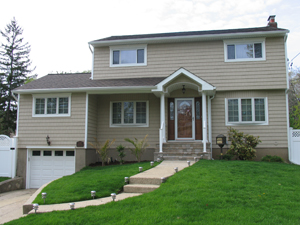 One of the inherent difficulties to installing vinyl siding is that vinyl can expand or contract a half an inch or more over the course of a normal year, accounting for regular changes in the temperature. This expansion and contraction is entirely normal, but it also speaks to the expertise needed to install vinyl siding correctly. Failure to account for these sorts of variables can have a disastrous impact on your siding, void manufacturers' warranties, and even put your home at risk for mold, mildew, infestation, and other similar factors.
Adjacent siding panels need to be locked along the length of the bottom of the panels, but it is essential that the panels are not stretched. You only want the lock to be engaged and fastened. Here are just a few of the things that need to be accounted for by a siding professional when they install vinyl siding on your home:
Read more ›
Marc Gilmore, 5 Day Bathroom Designer at Alure Home Improvements, knows there are many aspects to consider when designing a new bathroom, but here, he shares his top five tips on creating a beautiful bathroom in your existing space.
Read more ›
As any homeowner knows, keeping mold and mildew out of the bathroom can sometimes be a real challenge. Bathrooms are often dark and damp – the perfect breeding ground for mold – which is why it is extremely important to design a bathroom that is well equipped to prevent this problem from developing in the first place. Not only is mold growth unsightly, it can also represent a potentially significant health risk for you and your family. So what steps can you take to protect your bathroom from this problem?
Ron Benkin, Director of Sales for Kitchen and Bathrooms says "it's very common to undersize the exhaust fan to the point where it's ineffective.  Not only should the exhaust fan be powerful enough to handle your size room, you have to consider that most fans range from 60 CFM to 120 CFM (Cubic Foot per Minute) and that for every elbow in the ducting or every 10' run, you lose 40-50 CFM.  So, for example, an 80 CFM unit with 10' of duct and one elbow is hardly pulling any moisture out of the room if any."
Read more ›
One thing that Long Island and the tristate area homeowners are often surprised to learn is that not all replacement windows are created equal. These days, most people understand that they should look for home remodeling products that are energy efficient, and the Department of Energy's ENERGY STAR program has become widely recognized as the industry standard. However, the problem is that just because a window is certified as "energy efficient," it doesn't necessarily mean that it will be right for your home. As it turns out, there are a variety of contributing factors that will determine how effective your windows ultimately will be, with the design of your home, location of the windows, and overall climate of your community all being especially important.
When talking about energy efficient windows, a distinction needs to be made between solar heat gains and non-solar heat gains (conduction, convection, and radiation). Generally speaking, non-solar heat gains are what you want to avoid. These types of heat flow can make it extremely difficult to keep the temperature of your home regulated, which puts a burden on the HVAC unit and drives up heating and cooling costs significantly. Solar heat gains, on the other hand, can sometimes be harnessed, and provide free heating during what is called the "heating season" – or the time of the year when you're likely to be running your heater. The reason that regional climate is so important here is relatively intuitive. In New York, for instance, our heating season is much, much longer than it is in the South, meaning local homes can take better advantage of solar heat gains than our neighbors below the Mason-Dixon Line who have to worry about solar heat making it difficult to keep their homes cool.
Read more ›
One of the most popular trends in kitchen remodeling is designing kitchens that are intended to be eco-friendly.
This has far reaching implications because a so-called "green" kitchen can limit household waste, help conserve natural resources, reduce the burden on landfills, and is a responsible investment into the home. So, what exactly goes into designing an environmentally friendly kitchen?
In many ways, the environmentally responsible kitchen is the sum of its parts. There is no one upgrade or design choice that you can make that will turn your kitchen green overnight.  As a professional remodeler will explain, there are all sorts of features, materials, fixtures, and other design choices that you can make that will deliver the results you require. For instance, here are some examples of eco-friendly options to consider:
Read more ›
Sal Ferro, President and CEO of Alure Home Improvements, knows there are many things to love about Long Island! But here, he shares his top five favorite things about it.
Read more ›
Being informed about the latest design trends in the bathroom remodeling industry can be extremely helpful when you're looking to upgrade the look and feel of your bathroom.  Of course, this information should be taken with a grain of salt, because, ultimately, you want to invest in a bathroom remodel that pleases you, regardless of what is trendy or popular.  However, knowing what is popular is often a good starting point when you're designing your dream bathroom, and this knowledge can give you inspiration to help you create a gorgeous room that you'll be eager to show off to your friends and family.
Speaking of trends, Ron Benkin: Director of Sales for the Bathroom and Kitchen departments at Alure Home Improvements shared this one with us.  "For years we avoided using Chinese made products due to inconsistency in quality and design, distrust in manufacturing materials and a general feeling of faithfulness to the American worker.  In the current global economy, one trend that is growing quickly is the use of American built, globally sourced products.  For example, kitchen cabinetry that is made of American hardwoods, which are shipped to Asia for finishing.  It utilizes German hinge and hardware technology and unique Italian shelf fasteners.  The materials are shipped back to the U.S. for assembly and sale, creating a high quality, high style, low cost line that is attractive to a broad market.  Other such products include faucetry, shower doors, mirrors and RX cabinets."
Read more ›