Exploring Kitchen Layouts for Your Long Island Home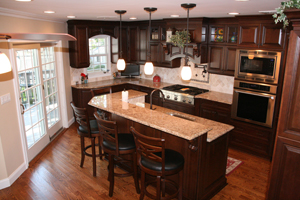 For many Long Island homeowners, sorting through potential kitchen layouts for their house can be an overwhelming, stressful process. Obviously, deciding to remodel your kitchen is a big investment, and you want to make sure that you get the most for your money and that you're absolutely thrilled with your new kitchen. Fortunately, the team at Alure Home Improvements is here to help you make sense of all of your options and design the kitchen of your dreams. Rather than selecting from pre-packaged kitchen layouts, we'll work with you to fully understand your wants and needs in order to design the custom kitchen that is perfect for your home.
One of the problems that some homeowners run into when they're looking to renovate their kitchen is that some home remodelers take a one-size-fits-all approach. However, at Alure Home Improvements, we believe that since no two kitchens are exactly alike, no two kitchen layouts should be exactly alike either. As a full-service home remodeler, we pride ourselves on being able to meet the exact needs of every homeowner that turns to us, and we'll work tirelessly to help you create a gorgeous, practical kitchen for your home.
We offer two main kitchen remodeling services:
10-Day Extreme Kitchen Remodeling, This service is perfect for homeowners who like their kitchen layouts but want to make a change to the look and feel of the room. While still a full gut and remodel, the entire project can be completed in just 10 days, greatly limiting any interruption to your daily routine.
Custom kitchen remodeling, Our highly experienced team can completely transform your kitchen to meet your exact needs. We can handle everything from tearing down and building new walls, moving fixtures, upgrading lighting, replacing cabinetry and flooring, and any other alteration you might require.
No matter the size and scope of your kitchen remodeling project, we can get the job done right. To learn more about the various kitchen layouts we've installed throughout the Long Island area, contact us today or stop by our three-story showroom in East Meadow seven days a week.