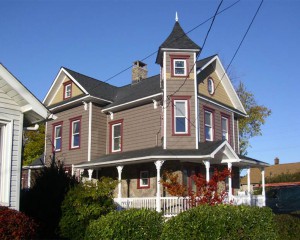 Vinyl siding was first introduced to the exterior cladding market in the early 1960's and steadily grew in popularity over the next four decades because of its look, value, durability, versatility and ease of maintenance.
The product is manufactured primarily with polyvinyl chloride (PVC), a material that gives it impact resistance, rigidity and strength.  PVC starts with two simple building blocks: chlorine (57%) from common salt and ethylene (43%) from natural gas.  Most of the natural gas utilized to manufacture ethylene is domestically produced, which reduces consumption of imported oil products.
Vinyl siding is available in a broad palette of colors, profiles and architectural trim to assist architects, builders and homeowners in customizing their new construction and renovation designs and can complement historical restoration projects as well.
Styles:
Clapboard
Dutchlap
Beaded
Vertical
Faux Cedar

Molded to look like real wood

Perfection shingle
Half round shingle
Rough split shake
Vinyl Siding Benefits:
It allows for additional insulation improving the energy efficiency of your home
Newer technology includes air sealing techniques applied from the exterior that help reduce air loss and create fuel savings regardless of whether you are cooling or heating your home
Ensure an airtight seal with reinforced tape over the seams
A heavy duty stainless steel starter strip is used instead of wood for ensured durability and longevity
Backed by outstanding manufacturer warranty coverage
Helps keep homes green and scores well on tough environmental measures in all processes

Manufacturing
Transportation
Installation
Service life
Waste management