You Can Remodel any Bathroom in Your East Meadow, NY, Home with Alure Home Improvements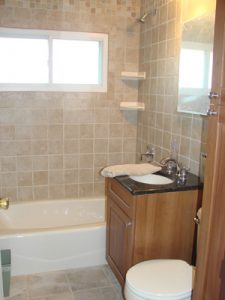 If you've always wanted to remodel a bathroom in your East Meadow, New York, home but haven't been sure where to start, stop by Alure Home Improvements. Our highly experienced bathroom remodelers will be glad to work with you to design a bathroom that looks great and fully meets your needs. Whether you just moved into your home and you hate your master bathroom or you're exploring ways to age in place and improve the bathroom's overall safety, we can help. Each bathroom remodel that we complete is unique and we'll take the time to fully understand your needs and wants before creating a custom bathroom design plan. See for yourself why homeowners throughout the area have turned to us since 1946 for their home remodeling projects.
A bathroom remodel is an excellent way to take better advantage of your bathroom's space. Perhaps you have a relatively small bathroom and you could use a little extra storage. Or maybe the ventilation has never been quite right in the bathroom and you're tired of moisture from a hot shower lingering for what seems like ages. No matter your situation, a highly experienced bathroom remodeler like Alure Home Improvements can help create a design plan to upgrade the room to better meet your needs.
Some examples of the types of upgrades we can make in your bathroom include the installation of:
A new tub, shower, or walk in tub
Wall tile
Flooring
New cabinetry
Countertops
Custom storage solutions
New windows
Acrylic liner products and wall surrounds
Lighting
And much more
To learn more about how we can help remodel the bathroom of your home in East Meadow, NY, contact Alure Home Improvements or stop by our local showroom today and speak with a bathroom remodeler. We'll be glad to explain your many options and help you design a bathroom that is attractive and practical. With our 5-day EXTREME bathroom remodeling service we can even complete the project in only a week if you want a complete gut and remodel but don't need any walls or fixtures moved.