Exploring Custom Bathroom Layouts for Your Home in Bayside, Howard Beach, Forest Hills, Across Queens County & Throughout New York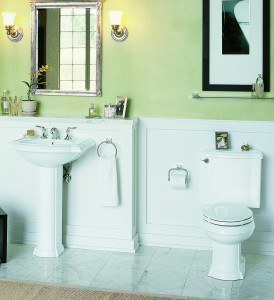 The state-of-the-art design software we use at Alure Home Improvements allows us to create custom bathroom layouts that meet your exact needs and specifications. One of the things that can sometimes make bathroom remodeling a little stressful is that it can be hard to imagine what you're newly renovated bathroom will look like when the job is done. You might like how something looks at the showroom and have a pretty good feeling about the choices you've made, but there is always going to be a small element of uncertainty while you wait for your project to be complete. To help overcome this uncertainty, Alure Home Improvements is proud to take advantage of some of the most cutting-edge technology in the industry to provide clear bathroom layouts that give a visual representation of what the bathroom will look like before the project even begins.
As a full-service home remodeling company, Alure Home Improvements can handle every aspect of bathroom remodeling from the initial design phase through the completion of construction. Here is how our design process works:
Before your project begins, you'll work with one of our design experts to select the cabinets, countertops, tile, and other components you want for your bathroom.
Next, we use our advanced software package to create full three-dimensional representation of what the newly remodeled bathroom will look like once the job is complete.
You then have the opportunity to amend the plan to ensure that the finished product will meet all of your needs and expectations.
Once everyone is comfortable with the layout for the bathroom, a timeline for the project will be created and one of our representatives will explain the full remodeling process.
This design process is so fantastic because it ensures that everyone is on the same page before the work begins, which cuts down on mistakes and gives you the peace of mind that comes with knowing that you're going to love your new bathroom. To learn more about the advantages of our bathroom layouts and design software, contact us today. We're also happy to offer several home remodeling products in Queens County, including siding, replacement windows, and sunrooms.