Basement Finishing – Westchester
Basement Finishing in Scarsdale, Yorktown Heights, White Plains, Across Westchester County & Throughout New York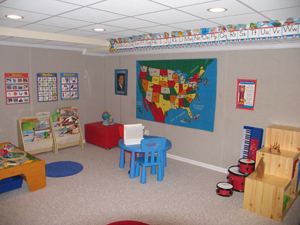 Finishing the basement in your Westchester county home with the Owens Corning™ Basement Finishing System™ is an excellent way to better utilize the livable space in your house. All too often, the basement is resigned to serve as neglected storage space and little else, but by electing to remodel your basement with this-state-of-the-art basement remodeling product, you can transform the area into one of your family's favorite rooms in the house. Whether you're looking to finally add that home theater you've always dreamed of, want to work from home, or could use another bedroom, the Owens Corning™ Basement Finishing System™ is the perfect solution.
The Owens Corning™ Basement Finishing System™ was designed to be easily installed and  less disruptive than traditional basement finishing methods. In fact, the Owens Corning™ Basement Finishing System™ can be installed in about two weeks and costs less on average per square foot than above ground construction. In addition to being an extremely attractive upgrade to the basement, this remodel also has several practical features that are worth noting:
Built-in wall insulation that limits the transfer of heat into and out of the basement
Built-in acoustic insulation that helps absorb sound
A Class-A fire rating, which is the highest in the industry
Durable, dent-resistant walls
Walls that are designed to be both mold and mildew resistant*
And more
This Basement Finishing System™ is backed by Owens Corning™, a company with more than 70 years of experience in the building industry, and comes with a Lifetime Limited Transferable Warranty as long as you own your home**. As a result, homeowners who invest in this remodel can rest assured that they are purchasing a quality product that is built to last.
To learn more about the numerous advantages of the Owens Corning™ Basement Finishing System™, contact us today and schedule a consultation with one of our representatives. We are also happy to offer a variety of other home remodeling services including bathroom remodeling, kitchen remodeling, and much more.
---
* While the materials and design of the Owens Corning™ Basement Finishing System™ resist mold and mildew, the system cannot prevent or mitigate mold if the conditions necessary for mold growth otherwise exist in your basement.
**See actual warranty for details, limitations, and requirements.