Basement Finishing – Rockland
Basement Finishing Services in New City, Suffern, Pomona, Across Rockland County & Throughout New York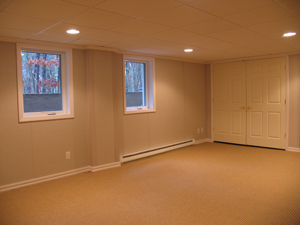 The team at Alure Home Improvements is happy to help our customers in Rockland County with their basement finishing needs. As a full-service remodeling company, we take pride in our ability to meet the unique remodeling needs of local homeowners, which is why we're so happy to serve as the area's only franchisee installer of the Owens Corning™ Basement Finishing System™. Rather than continue to waste valuable floor space, transform the room into one of your family's favorite places.
The Owens Corning™ Basement Finishing System™ is a beautiful basement upgrade that can be installed in about two weeks by our trained, certified installers. Costing less on average per square foot than above ground construction, this affordable basement remodel is perfect for homeowners who are looking to expand the livable space of their home without the mess and time commitment that is often associated with other remodeling projects.
Your newly remodeled basement can be used a number of ways, such as a:
Personal gym
Home office
Theater
Game room
Bedroom
Family room
And more
One of the biggest advantages to the Corning™ Basement Finishing System™ is that it was designed with basement environments in mind. The walls of the state-of-the-art Basement Finishing System™ are built to be mold and mildew resistant* and are also Class-A fire rated. Furthermore, the Owens Corning™ Basement Finishing System™ features built-in wall insulation that helps limit the transfer of heat into and out of the basement and also helps absorb sound.
With so many features and benefits associated with the Owens Corning™ Basement Finishing System™, the best way to learn about refinishing your basement is to contact us today and schedule a consultation. We'll be glad to visit your home to inspect your basement and explain your various options. We also maintain a three-story showroom in East Meadow, New York, where you can see the basement remodels for yourself. In addition, we specialize in gorgeous kitchen remodeling and bathroom remodeling projects.