Basement Finishing for Putnam County Homes
Basement Finishing Services Available in Brewster, Carmel, Mahopac, Across Putnam County & New York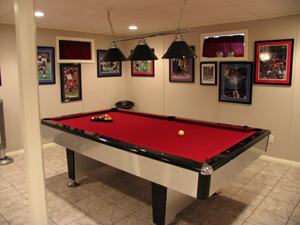 Finishing the basement in your Putnam County homes are a great way to transform a neglected part of your house into one of your family's favorite gathering areas. At Alure Home Improvements, we are pleased to serve homeowners in the Putnam County community as the area's only franchisee installer of the advanced Owens Corning™ Basement Finishing System™. The advanced Basement Finishing System™ can be installed in about two weeks, allowing you to enjoy your newly remodeled basement in less time than you might expect. Nearly every homeowner could benefit from a little extra floor space and furnishing the basement is a practical way to turn the drab lower level of your home into a gym, office, theater, or spare bedroom.
The Owens Corning™ Basement Finishing System™ was designed specifically to be installed in basement environments. As a result, the walls of the remodel are built to resist mold and mildew growth* and are extremely durable. Other advantages to this type of basement finishing product include:
The walls feature built-in acoustic and thermal insulation, which helps limit the transfer of heat and absorb sound
The trim of the Owens Corning™ Basement Finishing System™ is removable, which allows homeowners to easily hide electronic wiring
The walls of the basement remodel are also removable, which means homeowners have easy access to the home's foundation, wiring, and plumbing if the need arises
The entire Basement Finishing System™ boasts a Class-A Fire Rating – the highest in the industry
At Alure Home Improvements, we understand that the decision to remodel your basement doesn't come lightly. You want to make sure you are making a wise investment and that your basement remodel will stand the test of time, which is why we're so proud to partner with Owens Corning™, a trusted name in the home remodeling industry with more than 70 years worth of experience.
To learn more about the various features and benefits of installing the Basement Finishing System™ in your Putnam County homes, contact us today. We are also proud to offer a variety of other home remodeling products including sunrooms, windows, gutters, and more.
---
* While the materials and design of the Owens Corning™ Basement Finishing System™ resist mold and mildew, the system cannot prevent or mitigate mold if the conditions necessary for mold growth otherwise exist in your basement.