Is it Time for a Bathroom Renovation in Your Home in Suffolk County, NY?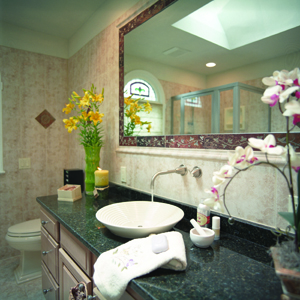 Scheduling a bathroom renovation in your Suffolk County, New York, home is an excellent way to breathe new life into one of the most important rooms in your house. Perhaps your bathroom is starting to show its age and it's time to think about a facelift. Maybe you just moved into a new house, and the bathroom doesn't quite meet your specific needs. Or maybe you've long dreamt of having a bathroom renovation, and you're ready to design the bathroom of your dreams. Whatever your circumstance, the team at Alure Home Improvements can certainly help you with your next bathroom renovation project.
Perhaps the biggest advantage to turning to the remodeling experts at Alure Home Improvements is that we're truly a one-stop-shop for all of your bathroom renovation needs. We have architects, interior decorators, designers, remodelers, space planners, plumbers, electricians, and just about every other professional you can imagine on staff that can help you design the bathroom of your dreams. Where other home improvement companies tend to have to outsource this work to third parties, we handle it all in-house.
Another benefit to working with our experienced team is that we offer two styles of bathroom renovation:
Custom bathroom remodeling: Our team can knock down walls, expand living space, move or install fixtures, and completely remodel every aspect of your bathroom. No job is too big or small.
5-Day EXTREME Bathroom Remodeling: This shop at home experience is an excellent option for homeowners who like the basic layout of their bathroom and don't need any walls or fixtures moved, but are interested in a full gut and remodel. Since the project is completed within five days, it also greatly limits interruption in your daily routine.
To learn how a bathroom renovation can benefit your home in Suffolk County, NY, contact Alure Home Improvements today. One of our bathroom remodelers will gladly explain your many options and help you get this exciting process started.